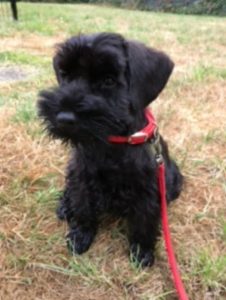 Fate and good luck were definitely on our side when we were introduced to Kirk Moss and Riesenheim schnauzers. Busy jobs meant we had to wait for our first puppy but when the time was right we could not have asked or wanted a better experience than that given by Kirk and Karen. We were extremely lucky to be offered a puppy from the litter as most were already reserved, and whilst our initial thoughts had been to have a little boy that soon changed when we met and fell in love with a tiny girl who we have named Bonnie. We travelled quite a distance to meet Kirk, Karen the litter (plus mum) but it was certainly worth the miles as it gave us great satisfaction and confidence in just how special the puppies were and how well they were cared for. We were kept informed throughout with regular puppy updates and videos and every question we had was answered immediately with great advice. We collected our puppy at the end of July when she was 8 weeks old. She was ready and waiting for us as with all her paperwork. Bonnie was vaccinated, chipped, wormed etc and Karen had put together a wonderful pack containing all her paperwork including birth certificate, kennel club registration and many more valuable bits of information. This beautiful puppy has settled into our home and lives and its like she has always been with us. She is a happy, very content, and well behaved puppy and we truly believe this is due to the care and attention she received in her first weeks at Riesenheim.
I would highly recommend Kirk and Karen to anyone considering a schnauzer. They have made the whole experience of owning our first dog wonderful.
Elaine @ John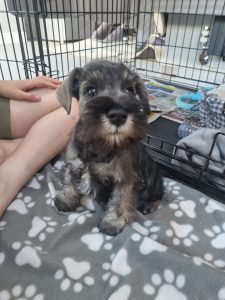 We have been searching for a reputable breeder for over 12 months. Kirk and Karen were recommended by another breeder (you know they have to be good if another breeder is recommending them) I had been in contact with and after contacting Kirk he replied within a day and explained he had a litter due end of June and would contact me once they had been born. The litter came 25th June and Kirk did exactly as he said and contacted me the very next day. I was sent photos and videos of the puppies every couple of days with little updates on them (I loved this and my children enjoyed getting the updates). When the puppies were 6 weeks old we were able to choose them, I was unable to meet them in person due to being away in our caravan but Kirk was very kind and we did a video call instead where he went through each puppy with us, their temperament, colourings and any other information we needed to know. We then chose purple and named him Toby. Kirk and Karen started calling him his name straight away. Usually collection of the pup would be when they are 8 weeks old. However we were on holiday and unable to collect Toby until he was 9 and half weeks, Kirk and Karen were very understanding about this and kept him until we could get to them. In that time Toby was getting used to his name and had started toileting training so when we collected him he was fantastic at not only responding to his name but also he was great at toileting. Upon collecting Toby I was invited into their house and they gave me lots of information on Tobys breed, his mother (we also met her)  and how to care for him, his pedigree information, he came microchipped and had had his 1st vaccination. Toby is a sweet cheeky little Schnauzer and we adore him. He's fantastic with my children who are 9 and 11 years old. I can't thank them enough for all the advice and support they have given us and still continue to do so.
Thanks
From The Plant Family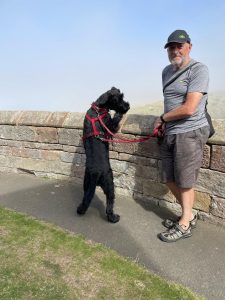 We have an 8 month old Giant Schnauzer from Riesenheim.
Our first experience with Kirk and Karen at Riesenheim was incredibly supportive as we had just lost our beloved Giant Schnauzer Oonagh and were recommended
to approach Kirk and Karen to find another gentle giant for our family. We were fortunate that a litter was soon to be on the way, and when they were born Kirk identified one of the boys as suitable for us. We named him Norman – and he is Oonagh's great nephew – which makes him even more special for us.
When the litter was born we received regular updates, photos and videos from Kirk and Karen, which made us feel really involved in Norman's development. We were overjoyed to meet Norman's mother and siblings when we visited the first time.
The large area dedicated to the puppies and their mother was really impressive,  but was still very much a homely environment.
We were given really helpful adivice when we brought Norman home, plenty of "paperwork" and guidance as to how to keep Norman well and happy. We have been in touch with Kirk and Karen regularly since for further tips on feeding, growing, exercising etc, and keeping them up to date on how he is getting along!
Norman is 8 moths now, 45 kilos and still growing (a bit- we think)
We love him dearly – and will always be grateful to Riesenheim for providing us with another beautiful and loving Giant.
Best Wishes
Sally and Barry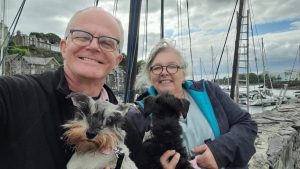 When we lost our boy schnauzer in April our girl really missed him. If possible, more than we did; so we needed to get her a companion. We contacted several rescue agencies as our girl was a rescue, all to no avail. Then we remembered a few month earlier we'd met a mini whilst visiting Skipton and we'd got chatting to her owners about where they'd got her from. We contacted that breeder who said they weren't breeding again this year, and suggested we contact another. Their recent litter were all spoken for, but they told us Riesenheim had just had a litter and perhaps we should try them. From the first contact they we're absolutely first class. Kirk sent us regular video clips of the puppies, photos of mum and dad, and kept us fully up to date with their progress. As it happens, the breeder who'd pointed us to Riesenheim had provided the stud dog. When the time came to visit to select a pup it was obvious from the moment the front door opened the Kirk and Karen love their dogs, and the breed, so much. And such a joy to see the pups in the home and be able to meet their mum. We knew for certain this was the place to get our new pup from. It was a tough choice to decide which girl we wanted, but I think in the end she chose us! Lizzie is quite simple adorable. So intelligent, and so affectionate. Very quickly picked up training and we look forward to many years of joy and love from her. And so good to know we can contact such knowledgeable schnauzer owners for a lifetime of help and support if needed. We'll definitely be back to Riesenheim next time we need a pup. We cannot commend them too highly. Absolutely brilliant. 5stars!
Phillip Lyon